The real estate business has its own market and customers. Like every other business, it requires advertisement and is known to as many people as possible. Real estate agents need to draft documents at times. These documents include affidavits, transfer letters, lease agreements, and many more.
A real estate agent can use letterhead to print the formal statements and agreements about the business. This letterhead serves as an official document between the two parties.
If you are a real estate agent and are looking for letterhead for your real estate business then you are at the right place. You can find here the 5 best letterhead templates for your business. The good news is all these templates are editable with Microsoft Word software.
Follow the steps to own the template
Choose any template
Download on your local computer
Unzip the file
Open the file using MS Word
Edit
Print
---
#1
The first one on the list is a beautiful letterhead template with a colorful header and footer. The header contains a LOGO and an image placeholder. Write your business information in the footer.
Dimension: 8.5″ x 11″
Size: 419 KB
---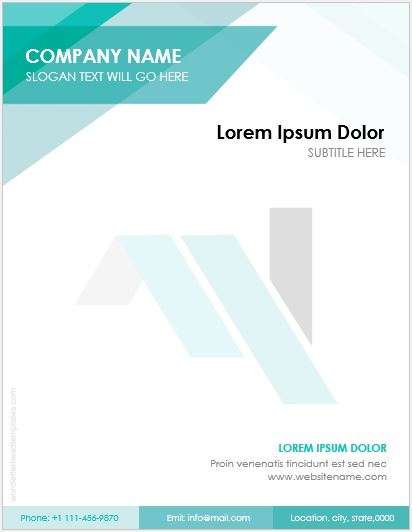 #2
Second, on the list has a professional look. It gives your business a step forward. You can edit all the text in this template. The footer has been designed to input information about your contact.
Dimension: 8.5″ x 11″
Size: 690 KB
---
#3
Third on the list, a wish for every real estate agent to have. This beautiful letterhead is designed by our professionals in a unique way. A home image in the background makes it unique for real estate use. The color scheme is awesome. Don't forget that all the text is editable. Wow!
Dimension: 8.5″ x 11″
Size: 580 KB
---
#4
Blue is the most demanded. YES! Many businesses out there opt for blue as it gives a calm and professional look. Pick this beautiful design letterhead for your business with nothing to pay. FREE! Wow.
Dimension: 8.5″ x 11″
Size: 824 KB
---
#5
Another blue with a different design and layout. This letterhead will grab your customer's attention and will surely be a memorable thing about your business. Give your business a unique name and spread its word using this letterhead. You must not forget something very unique about having this letterhead. Guess what? it is editable. It's amazing, isn't it?
Dimension: 8.5″ x 11″
Size: 825 KB