The real estate business letterhead is a heading on a paper or sheets of paper bound together as a pad. The heading is generally put on the top to make the paper a document that can be considered as an official, formal, valid and authentic one. In the common use, when one is referring to a letterhead, it may not be about that specific heading, but the paper having that heading on it.
A real estate business involves many activities that require official documentation, for which a letterhead becomes a must for them and serves many purposes, such as:
Through a letterhead, a document can be linked to a real estate business.
The business's basic information of name and contact, along with its brand image can be indicated through the letterhead.
The letterheads can be used to write different letters, applications, employee recommendation or reference letters, employment certificates, performance certificates, etc.
The official documentation and correspondence within and outside the business can be conducted by using a letterhead, that includes communicating with various parties involved, such as the owners of properties or landlords, clients, agents, contractors, competitors, insurance companies, banks, etc.
Basic contracts or initial agreements between parties can also be signed on a letterhead.
Due to the numerous associated benefits, the use of letterheads in real estate businesses is a common practice. These businesses either design the letterheads themselves or hire professionals to do the job for them. In either case, it is important to ensure that:
The letterhead is unique and distinctly represents a business.
It is professional and formal.
It should reflect the business's brand image, and the text, font, images, etc., are synchronized.
The information stated in the letterhead is correct.
The font style and text size are easily readable.
The text is not obscured by the letterhead background color, text or images.
The quality of the paper used for the letterhead is not substandard.
The quality of printing is good.
Enough space is left for the content, signature, and stamp.
Apart from the basic information of a business, the information and images included on letterhead may vary from one real estate business to another, as per its desires and requirements. However, generally, the following information is included on almost all the letterheads:
Name of the real estate business.
Address, fax, email, and contact number.
The slogan, if present.
Logo or any related image.
Background picture, color or text, if desired.
When a document is prepared on letterhead and is duly signed and stamped by an authorized person, its validity and authenticity increase. The receiving party knows that the document is not fake, as it is coming directly from the company, and that it has been used for the official correspondence. This makes it easier for the sending as well as the receiving party in terms of the document's acceptability.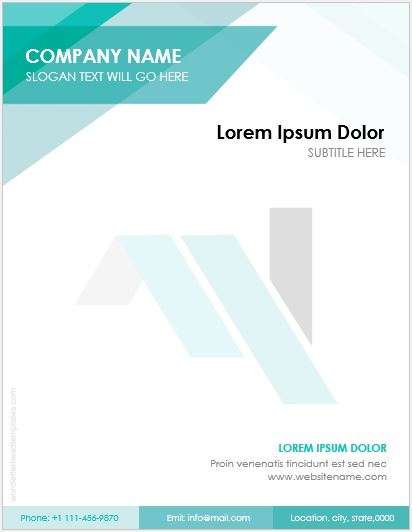 File: Word (.docx) 2007+ and iPad
Size 280 Kb | Download –>

---