Letterhead is a document that includes the name of the company, logo, and contact details at the top. The purpose of using the letterhead is to give information about the company at a first glance. The letterhead is usually prepared on an 8.5″ x 11″, 8.5″ x 14″, 11″ x 17″, A4 size paper or you can choose a blank document of the desired size.
Generally, people prefer using letterheads because using them gives a sense of recognition. The letterhead can be prepared by a company or an individual.
If the letterhead is prepared by the company, it includes information about that company and if it is being used by the individual, then it includes the personal details of that person.
The most prominent part of the document is the top portion. So, the letterhead is added at the top. You can keep the letterhead in the center or at one corner of the document.
The letterhead also includes the contact details of the company due to which it becomes easier for the recipient to reply.
Tips to make a professional letterhead
The color and font to be used on the letterhead should be decent and attractive. Make sure that the color scheme, as well as the design of the letterhead, should be in accordance with the nature of the business.
Editable letterheads are very convenient to use. All you have to do is add the details to the letterhead through its customization feature. You can add the image to the letterhead. The image can also be resized according to the choice of the user.
The size and color of the font be such that they can easily be seen in the background. The editable letterhead template also provides several other customization features through which the user can easily draft a professional-looking business letterhead.
There is no specific design to be used while creating a letterhead since it totally depends on the type of business.
Templates for editable letterheads can be downloaded from here. These templates provide a lot of flexibility to the user due to which drafting a personal letterhead becomes easier.
Editable MS Word Letterhead Templates
#1

Size: Letterhead 8.5″ X 11″
Size: 2MB
Download
---
#2

Size: Letterhead 8.5″ X 11″
Size: 3MB
Download
---
#3

Size: Letterhead 8.5″ X 11″
Size: 3MB
Download
---
#4

Size: Letterhead 8.5″ X 11″
Size: 3MB
Download
---
#5

Size: Letterhead 8.5″ X 11″
Size: 3MB
Download
---
#6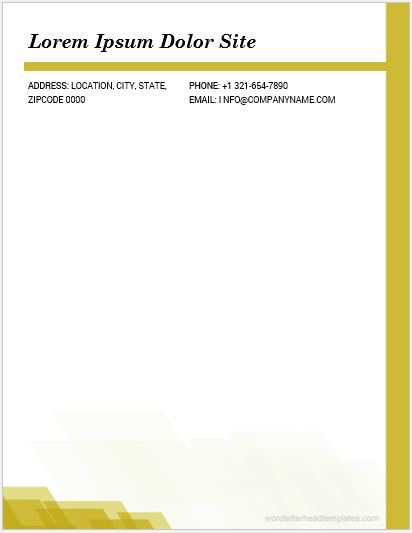 Size: Letterhead 8.5″ X 11″
Size: 200KB
Download
---
#7

Size: Letterhead 8.5″ X 11″
Size: 407KB
Download
---
#8

Size: Letterhead 8.5″ X 11″
Size: 590KB
Download
---
#9

Size: Letterhead 8.5″ X 11″
Size: 579KB
Download
---
#10

Size: Letterhead 8.5″ X 11″
Size: 1.2MB
Download
---
#11

Size: Letterhead 8.5″ X 11″
Size: 234KB
Download
---
#12

Size: Letterhead 8.5″ X 11″
Size: 838KB
Download
---
#13

Size: Letterhead 8.5″ X 11″
Size: 4MB
Download
---
#14

Size: Letterhead 8.5″ X 11″
Size: 606KB
Download
---
#15

Size: Letterhead 8.5″ X 11″
Size: 368KB
Download
---