The letterheads used by the house remodeling companies for business communication through letters and other official means include the name of the company, title, address, and contact information. Letterheads give the construction company recognition as there is exceeding competition among the construction business shareholders these days.
House remodeling company letterheads are designed explicitly to showcase the type of business. For example, mentioning the sub-title as 'home improvement' or 'remodeling houses' on the left of the indentation can work.
Different colors, font styles, and sizes are used to design company letterheads as they are the first to be observed. These letterheads include the logo of the company that complements the identification of the business document. Different remodeling constructors have different designs for the letterheads owing to their ultimate importance.
Using letterheads by house remodeling or renovating companies can bring several benefits to their business communication. Some of them are pointed out here.
Using letterheads by the house remodeling companies gives their document an official look which captivates certain attention of the reader or the recipient.
 Professional way of making effective contact by the use of letterheads.
Portraying a professional image of the brand or company.
 Letterheads are considered a powerful marketing tool as every time your letter has been read, its branding is evoked.
Most letterheads include:
The name of the company
Title of the company
Logo of the company
The precise location of the company
Contact details including phone and email
Important things to keep in mind…
The following things must be kept in mind while designing letterheads.
Quality should never be compromised while selecting paper and print.
Use of sharp colors and design
Use of sharp logo
Using a template to prepare letterheads for a house remodeling company would make the process quick through a single click and predesigned templates would be in your hand with a margin of personalization. Many of the features can be predetermined and estimated using templates.
There are various house remodeling company letterheads available on our website that can be downloaded and used purposefully. The available designs are categorized to make them user-friendly.
#1
#2
#3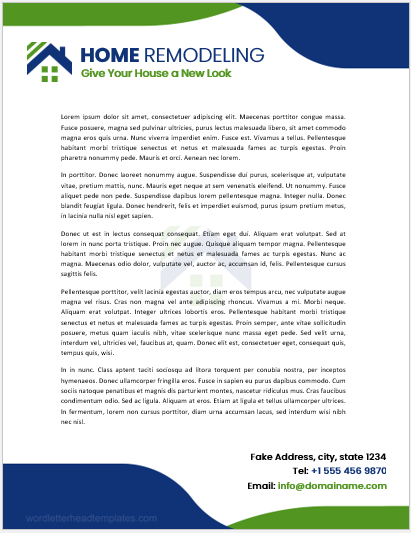 #4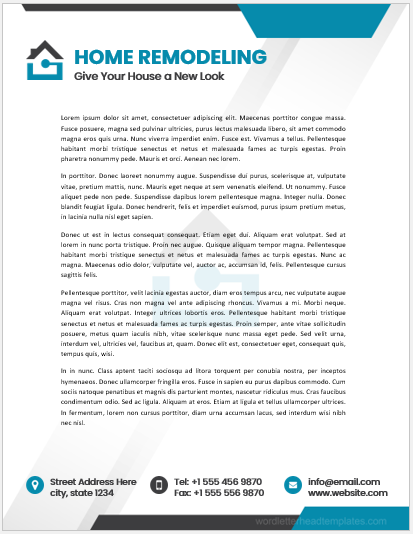 #5