A corporate letterhead is a pre-printed heading on the top of documents like letters, applications, memos, and whatnot. This heading is displayed on every document a company uses.
The purpose of creating business letterheads may include
Big corporations and organizations make use of corporate letterhead when they want to reach out to their customers and clients. The use of letterhead makes their business look more legitimate.
Companies also use letterhead because it helps them stand out.
Different companies use different types of details depending on their preferences on the letterhead. However, there are certain details that are added to every letterhead. These details are:
Name and address of the corporation
Logo of the company
Design to be used in the background of the letterhead
Creating a letterhead
Individuals and companies create a letterhead in a word processing document. There is much more software that can be used for this purpose. Once the letterhead is created, it is displayed at the top of every sheet of information the company uses. When the company sends a document to someone written on the letterhead, it gives the document an official and authoritative look. Whether you want to send a letter by post or by electronic means such as email, you can always use letterhead
It is very easy to create the corporate letterhead, especially if you are using a template for this purpose. Here are some very easy steps to follow in order to create an appealing letterhead for your corporation:
Choose two or more colors
Many companies use black and white letterhead. However, if a corporation has a particular color scheme to reflect in everything it produces, the same color scheme should also be seen on the letterhead.
If you are free to choose the color contrast of your choice, then you can go for two or more colors that look vibrant and attractive together. You can add colors to the borders, header, and other parts of the letterhead.
Adjust the logo of the company near the letterhead
Since the letterhead is created with the purpose of branding in order to make the corporation more recognizable, you should put the logo on the top of the letterhead. Most of the customers quickly recognize the company's logo. So the logo should be at the top.
The logo should be added to the letterhead in such a way that the color scheme of the letterhead matches the logo and makes it more noticeable.
Use visual indicators to direct readers
Sometimes, the letterhead can be created with cues so that the reader can be redirected to what he should look at. Information flow becomes possible when different types of techniques can be used. You can add the border of the arrow shape to create the directional cues.
Template
#1
File: Word (.docx) 2007/10
Size: 142 KB
#2
File: Word (.docx) 2007/10
Size: 148 KB
#3
File: Word (.docx) 2007/10
Size: 273 KB
#4
File: Word (.docx) 2007/10
Size: 197 KB
#5
File: Word (.docx) 2007/10
Size: 49 KB
#6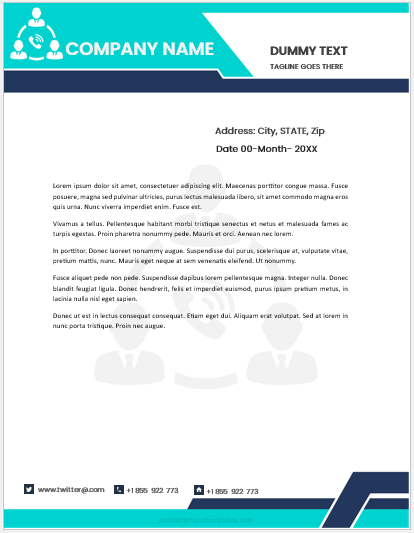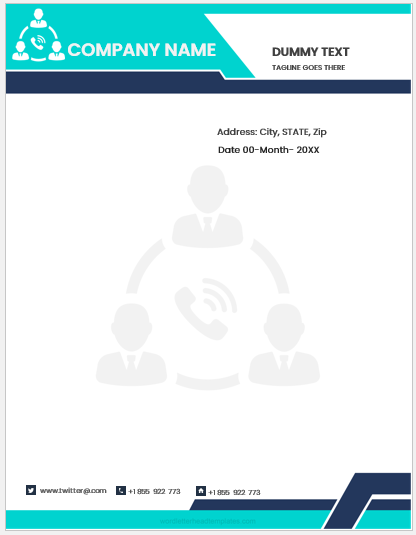 Dimensions: 8.5′′ x 11′′
Size: 3MB