A well-designed letterhead imparts a professional impression to all your paper correspondence. Schools need to communicate with parents, board members, or other departments in the form of letters or notification circulars. A professional letterhead makes these documents more official as well as credible.
Why are Letterheads Important for Schools?
A letterhead typically consists of a company's logo, name, and contact information. It is an important part of letters, memos, and other such documents in the business world. Schools are also established institutes with an official identifying logo. All correspondence carried out within a school with the staff, parents, students, or board members are official. It should follow all the important requirements, including a professional letterhead. Without one, a document loses its formal touch.
What to Include in a School Letterhead?
A letterhead should be prominent and eye-catching. At the same time, schools need one that is simple with a clean design. It should not be flashy and fancy. Moreover, only the required information should be included without cramming the letterhead with unnecessary details. Remember, its purpose is to let the readers know that a particular document has been officially issued by your school. It should not take the attention away from the information provided in the document.
Here are the important details to be included in your school's letterhead.
Your logo along with a short motto.
The name of your school.
Basic contact information including phone number, email Id, mailing address, and a URL for the school's website.
How to Design Professional Letterheads?
Designing a school's letterhead is not as simple as it sounds. It requires expertise in the field of graphic design. However, your job can become much easier if you use pre-designed, editable letterhead templates online. These are created by professionals with perfect attention to little details. You can make use of these templates for free. Edit these letterheads by adding your own logo and the school's specific contact information.
Here are some tips to help you use these free letterhead templates.
Choose an appropriate template. It should be simple with no eccentric designs.
Download the selected template.
Make sure you have access to MS Word. This is where you are going to edit the template.
Open the template in MS Word and make the necessary changes.
Save the changes and use the final design as your official letterhead.
Advantages of Using Pre-Designed Letterheads
You may create your letterhead from scratch. However, the process requires experience in the field of graphic design. You may also need expensive software programs like Adobe Photoshop. You will, therefore, need to spend a considerable amount on designing your own letterhead.
On the other hand, using pre-designed templates will not cost you any money. All you need is a computer system and an internet connection. Once you have downloaded a template, it can be easily edited by anyone with basic knowledge about using computers and MS Word.
The end result will be a professional-looking letterhead that can be used by your school for years to come.
#1
#2
#3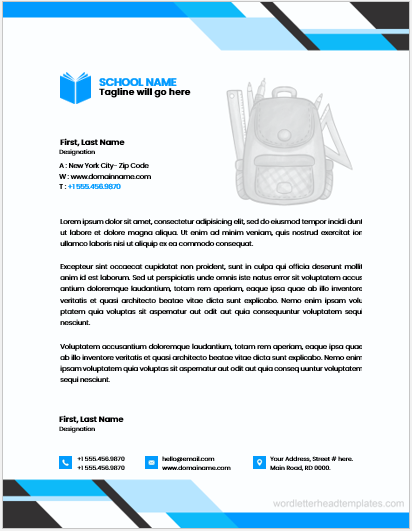 #4
#5
#6
#7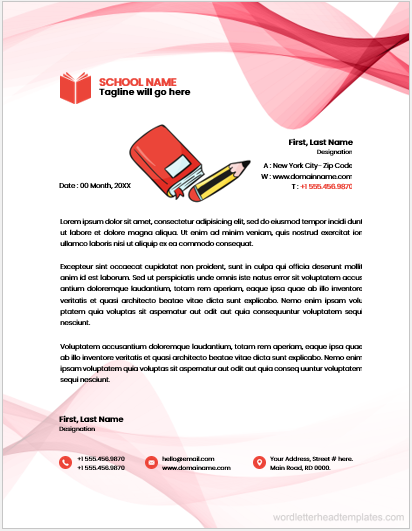 #8
#9
#10