Small businesses need letterheads to strengthen and boost the marketing of their products/services. Small businesses need to use letterheads to make their communication effective, demonstrate the quality they produce, and branding of their business. These three core goals are reached using effective and high-quality letterheads.
Letterheads are part of business communication that are pre-printed and laid out in a certain design to create a certain image. Letterheads carry basic information about the business; hence, it offers limitless benefits to small businesses.
A small-scale business always requires boosters for the strength of their business and to achieve higher goals. In business, effective communication is central to the achievement of desired results. Without good communication, no business can run smoothly. All the local market businesses that work without using an effective medium of communication suffer from unsuccessful business ideals and goals, hence, they do not pay much attention to the need for efficient communication. Letterheads act as a source of effective communication by providing basic information about the business.
Requirement of Small-Scale Business:
Authentication and Approval from the Audience:
A small-scale business is always seeking authentication and approval from its target audiences by achieving the satisfaction of its clients and customers. Letterheads provide the credibility that can lead to customer approval and confidence.
Imparting First Impression Efficiently:
Small business needs to put the first impression on the targeted audience that must be efficient and excellent. Letterheads impart a good first impression which is in total benefit of small-scale business.
Creating a Professional Outlook:
By creating a professional outlook through letterheads, small businesses can boost their image. Letterheads in the shape of cover letters, invoices, diaries, filers, and many other documents provide a professional outlook to the business image.
Specified Branding and Marketing:
Letterheads provide specified branding to small businesses. They work as a tool of marketing for small-scale businesses.
Usage of Letterheads:
In small businesses, the following documents use letterheads:
Cover Letters
Appointment letters
Customer invoice
Office journals
Office binders
Notepads
Minutes of meeting
Warning and request letters
Inter and intradepartmental communication
Greetings
Contents of a Good Letterhead:
Name
Phone number
Official website
Official email
Fax number
Complete address
Logo
Social media IDs/usernames (optional)
Role of Graphic Designing Services:
Much of the letterhead design depends on the graphic designing services you hire for the designing of your letterheads. To design a new letterhead or to replace an older one, you should always hire an expert for the task.
There are certain rules for designing letterheads including the use of font size, font style, color, and design depending on the nature of the business.
These rules are thoroughly recognized and acknowledged by expert designers. They design a letterhead after ample examination of the nature of the business and target audience. This task is not done in isolation, but with the constant coordination of your content writer, graphic designer, and marketing strategist.
Several platforms provide online services and templates for the letterheads. You can access those platforms and get your letterhead exclusively designed and readily prepared.
Templates
#1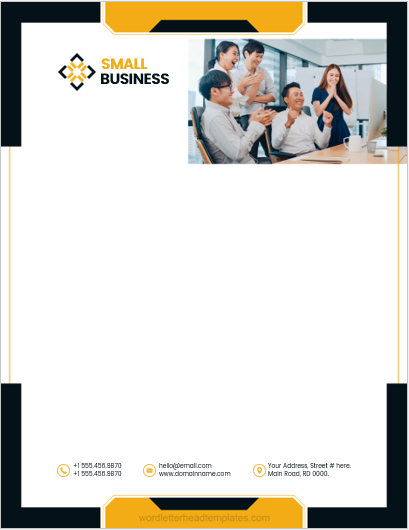 Dimension: 8.5″ x 11″
Size: 4MB
Download
---
#2

Dimension: 8.5″ x 11″
Size: 4MB
Download
---
#3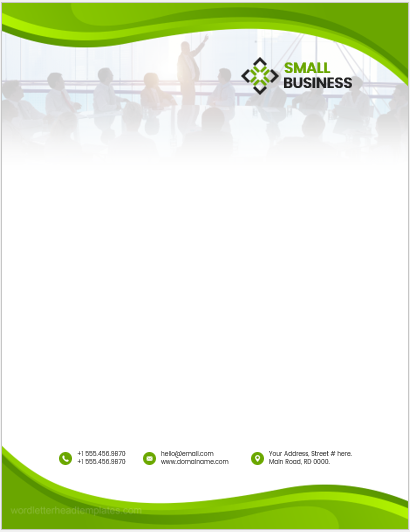 Dimension: 8.5″ x 11″
Size: 4MB
Download
---
#4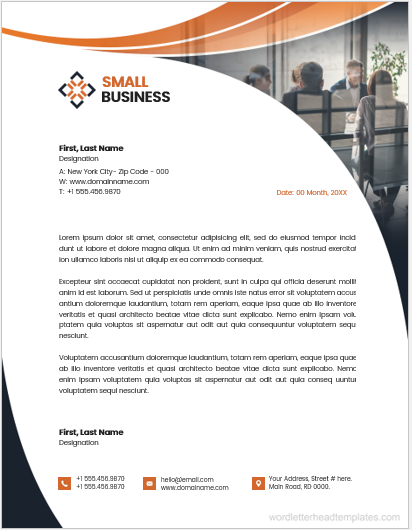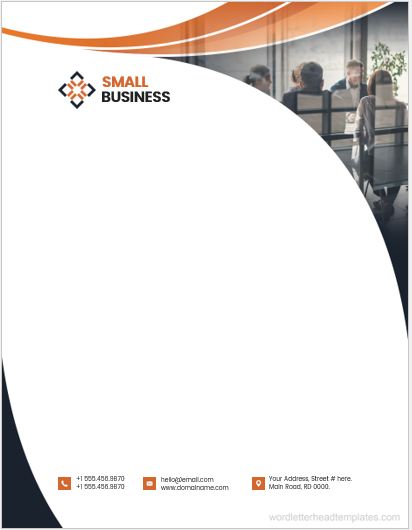 Dimension: 8.5″ x 11″
Size: 4MB
Download
---
#5

Dimension: 8.5″ x 11″
Size: 4MB
Download
---