Letterhead or letterheaded paper is mostly used in the corporate sector or in offices that consist of the company name, logo, address, and contact information on it. It is used to write business letters, documents, or applications for sending to a different organization. Letterhead papers are generally imprinted papers with sometimes a background as well.
These letterhead papers are created on different software applications like MS Word application on the letter or A4-sized paper.
It is an effective way of business communication as having that imprinted letter gives a clear idea of where it is. Letterhead also shows the authenticity of the organization.
The following are a few letterhead templates designed for you. Download any template of your choice and make changes accordingly. Here are a few:
#1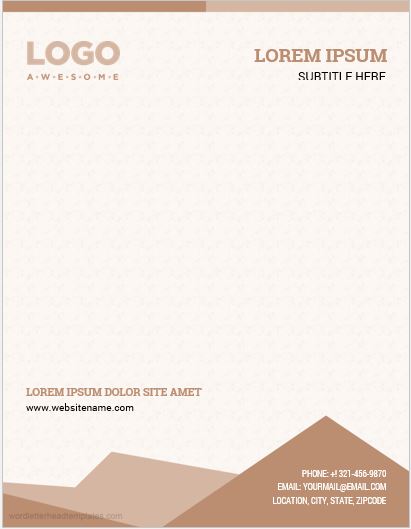 Rose Gold:
This letter template is designed to write any business letter or correspondence provided in different sections for a company logo on the top left, company details on the right, and address on the right bottom. Whereas the text will be entered in the empty section in the middle. You can also add your mailing address provided by the template.
Dimension: 8.5″ x 11″
Size: 1967 KB
#2
Blue forest:
A blue forest template is created for official letters to be written effectively. There is an embossed pattern on the left side that will continue to each page of the written letter. Given below is the splitter to write the contact information.
Dimension: 8.5″ x 11″
Size: 689 KB
#3
Standard Blue:
This letter template is created with the full background image of the entire document. It has a placeholder for the company logo and contact information.
Dimension: 8.5″ x 11″
Size: 3104 KB
#4
The Business:
This business template was created with three sections one for a company name & logo then ahead is a section for any salutation etc. and the third section is provided for the contact information of the company.
Dimension: 8.5″ x 11″
Size: 689 KB
#5
Forest:
Write your business letter with this accessible letterhead template featuring the basic form of letter representation. Providing the letterhead block for a company name, company address, and ending notes. These templates are adjustable in size like a legal, letter, card size, etc.
Dimension: 8.5″ x 11″
Size: 240 KB
#6
Vision:
This is a very basic form of a company letterhead with a metallic color that shows professionalism at its peak. You can make changes to this letterhead depending on your requirements.
Dimension: 8.5″ x 11″
Size: 408 KB
#7
Enchanted Green:
This is a beautiful template featuring simple enchanted green color-provided blocks for company detailing.
Dimension: 8.5″ x 11″
Size: 802 KB
#8
The Cloud of Blue:
The cloud of the blue template has an imprinted cloud as a background that will continue throughout the document. It Contains letterhead blocks for the company logo, company details, and contact information.
Dimension: 8.5″ x 11″
Size: 363 KB
#9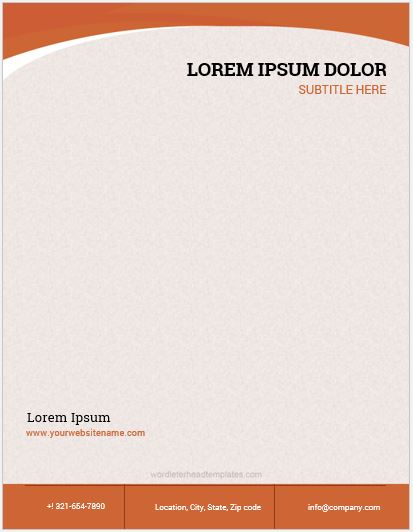 Exhibit:
An Exhibit is a classic form of letterhead template with its warm impact. That has a letterhead block of the company name and contact information.
Dimension: 8.5″ x 11″
Size: 7363 KB
#10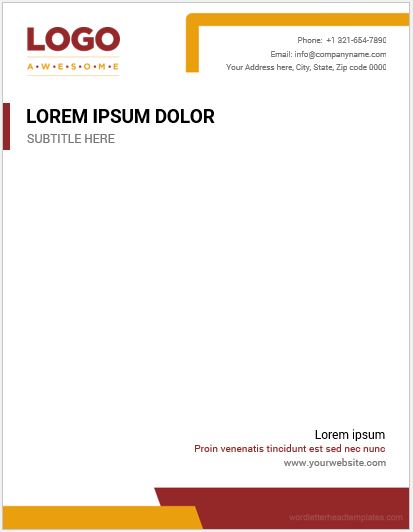 Paints:
The paint template is craftily designed that has a letterhead of a company logo & address on the top. The background is kept white so that it will enhance the text or images if you want to add them to your letter. You can make changes to your choice in this letter template.
Dimension: 8.5″ x 11″
Size: 251 KB
More Templates…