What is a letterhead?
Letterhead sheet is a commonly used paper in business which serves as an official presentation of the business. Letterhead is a sheet of paper which includes the logo, name, contact details, etc. of the company.
How to create a letterhead?
Creating a letterhead is simple and easy yet it requires you to do certain planning for its preparation. In other words, a letterhead provides a blank sheet of paper along with details related to your company.
Key elements of letterhead:
Key details that are most important to be added in the letterhead are:
Logo of the company
Name of the company
Address phone number web address email address and other contact details of the company
License number
The date on which the company was established
After you have got to know about all the details to be added in the letterhead document, you are required to know about the placement of every element. If you know the exact placement for every element, you will be able to draft the professional letterhead.
MS Word format letterheads are very popular because of the convenience and functionalities they come with. There are some additional features that are provided by MS Word with the help of which you can easily add the header at the top of the document and footer at the bottom.
The letterhead can easily be prepared by choosing the right style and then inserting a header and footer. After completing the letterhead document, you can save it on your device.
This document can be used later as a template. Moreover, some websites also provide letterhead templates. These templates provide you the complete flexibility to customize and edit the details given in the header.
With the use of letterhead, you will still be in need to write a letter but you will not have to provide your's and your company's details every time you write a letter.
A letterhead is a very significant part of any official document because it represents the information about the company. It is important to design a letterhead in a professional way since it is the first thing that everyone sees. There is no denying of the fact that you can put a very positive impression on the mind of the recipient with the help of an impressive letterhead.
The following are given 10 best design letterhead templates for MS Word. Download and print any to give your business a new look.
---
A comprehensive letterhead that contains much information about the business. The header and footer are designed by professionals and you have enough space in the middle to print your official stuff.
Dimension: 8.5″ x 11″
Size: 568 KB
---
A letterhead with unique design and editing properties. Write your company name, contact information and print the document. What else is easy?
Dimension: 8.5″ x 11″
Size: 496 KB
---
A design with most of the information given at the bottom. It has a place for the LOGO at the top.
Dimension: 8.5″ x 11″
Size: 686 KB
---
A professional design for a perfect business. Add the details and get the print.
Dimension: 8.5″ x 11″
Size: 1673 KB
---
A business letterhead which makes you feel wow! How is it preparing a professional-looking letterhead while being at your office? Don't believe it!! You can do it, now!
Dimension: 8.5″ x 11″
Size: 1336 KB
---
Another letterhead with a simple look and most of the space is given to writing the statement.
Dimension: 8.5″ x 11″
Size: 492 KB
---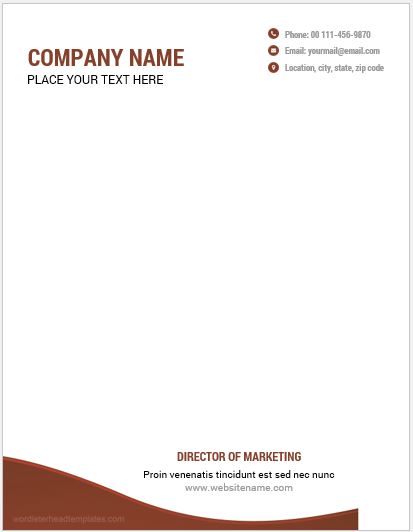 A small design at the bottom is added to make it the best choice for the businesses.
Dimension: 8.5″ x 11″
Size: 287 KB
---
These header and footer designs will make you think twice. Isn't? Yes, you can have this letterhead. Go to download and print it.
Dimension: 8.5″ x 11″
Size: 879 KB
---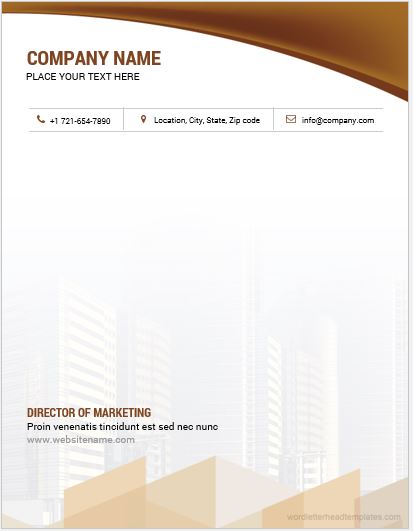 A beautiful design letterhead that you can print on your own. Don't forget to use a good quality paper for better results.
Dimension: 8.5″ x 11″
Size: 2059 KB
---
Last still excellent! Isn't? You may think not to scroll back as this letterhead has an eye-catching look.
Dimension: 8.5″ x 11″
Size: 738 KB