Accountant letterheads are the official papers, which are part of the office stationery and are used for drafting document correspondences. These papers have the basic information of the accountants or their companies. Looking up the definition can indicate that this information of the name and official details are collectively called a letterhead, but in common usage, the paper with this information is referred to as a letterhead.
An accountant is a person, who records, maintains, and checks the financial transactions and figures for the relevant company. An accountant may function individually or as a company. It may appear that the services of accountancy do not require much communication, and the usage of letterheads may be limited as well. However, this may not be true, and the accountant needs to correspond with many stakeholders, including:
Workers or employees.
Clients or customers.
Other accountants or accountancy firms.
Auditors.
Government organizations, etc.
When these correspondences or any related documents are drafted, the letterhead papers are used. Usually, an accountant designs a template, by bringing changes into a free template or hires an expert to design it specifically for him or his company. Having a template makes the task of printing or updating the letterhead easier, every time the need arises.
The design and information stated on the letterhead can vary as per the priorities of the accountant. However, a few of the considerations should be:
The letterhead should be distinct, professional-looking, and attractive.
The incorporated pictures should reflect that the letterhead belongs to an accountant.
The paper on which the letterhead is being printed should be of good quality along with the printing quality.
The empty space left for the document's content should be sufficient and should not be overshadowed by the pictures or design.
The details stated about the accountant, or his company should be correct and latest.
It is the accountant's prerogative to decide about the details to be put on his letterhead. Generally, the following information is mentioned:
Allocated space to state the date.
Name of the accountant or official brand name of the organization.
Official logo and slogan.
Official contact details, including phone number, fax number, postal address, email address, and website URL.
Empty space left for text.
Allocated space for the official signature and stamp.
Supportive and decorative pictures.
If any of the official information changes, it is always advisable to reprint the letterheads with the updated information. It will help in minimizing misunderstandings, inconveniences, and legal issues. This is because, if a letterhead document is duly signed and stamped, it holds the significance of being legal evidence.
Therefore, the cost of printing the papers again will be much less than the cost of any legal actions taken against the accountant. In addition, using letterhead with outdated information does not look professional, and makes a bad impression on the recipient of the document.
#1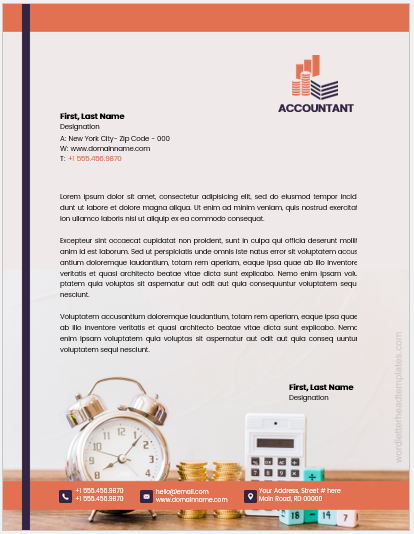 Dimensions: 8.5′′ x 11′′
Size: 3MB
#2
Dimensions: 8.5′′ x 11′′
Size: 3MB
#3
Dimensions: 8.5′′ x 11′′
Size: 3MB
#4
Dimensions: 8.5′′ x 11′′
Size: 3MB
#5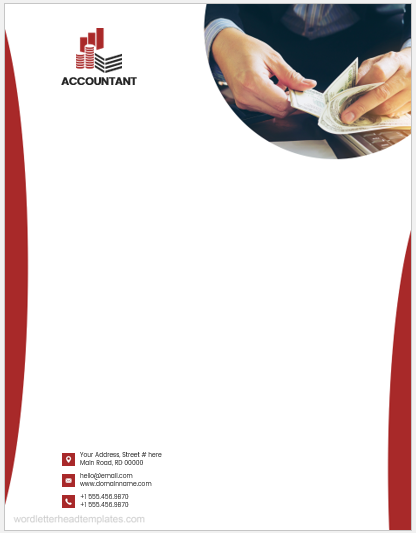 Dimensions: 8.5′′ x 11′′
Size: 3MB
#6
Dimensions: 8.5′′ x 11′′
Size: 3MB
#7
Dimensions: 8.5′′ x 11′′
Size: 3MB
#8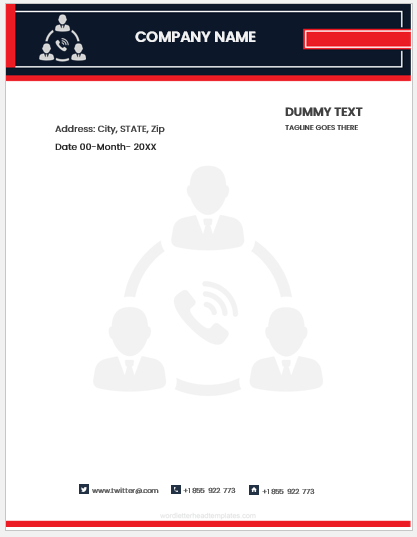 Dimensions: 8.5′′ x 11′′
Size: 3MB
#9
Dimensions: 8.5′′ x 11′′
Size: 3MB
#10
Dimensions: 8.5′′ x 11′′
Size: 3MB
#11
Dimensions: 8.5′′ x 11′′
Size: 3MB
#12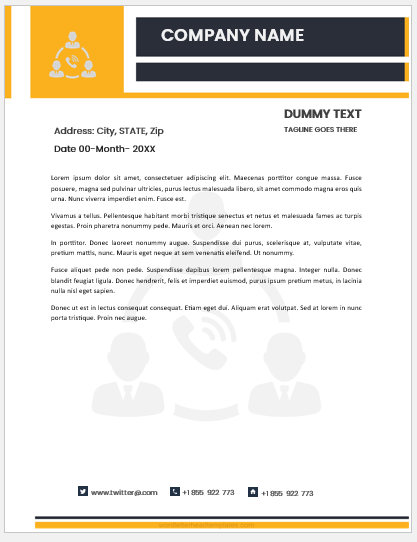 Dimensions: 8.5′′ x 11′′
Size: 3MB
#13
Dimensions: 8.5′′ x 11′′
Size: 3MB
#14
Dimensions: 8.5′′ x 11′′
Size: 3MB
#15
Dimensions: 8.5′′ x 11′′
Size: 3MB