Automobile workshops are also known as repair workshops or garages. An auto workshop is basically a place where damaged or dysfunctional automobiles are repaired. Usually, such workshops have trained and highly skilled technicians or mechanics who have in-depth knowledge and expertise in automobile repair.
The dysfunction of the automobiles can range from a flat tire, broken windscreen, malfunctioning engines, or any other problem the vehicle may be facing. In addition to this, the automobile workshops also offer monthly or yearly scheduled service of the car which is needed for the maintenance and longevity of the car and its engine.
The auto workshops are usually independent entities and non-government organizations. In more developed countries, such workshops may also offer online services and consultation via video.
A letterhead is a document used by organizations to communicate with their clients or other people professionally. These documents are usually preprinted and contain information about the business.
A letterhead will generally include a brand graphic which will be most prominent on the letterhead and contact details of the business including address and telephone. The font and colors for the letterheads are used which are consistent with the brand and instantly recognizable for their clients. The letterhead usually has this information in the header or footer area and the main body of the document is kept empty for the information to be added by the user.
Significance of letterheads:
An Automobile workshop may use a letterhead document to make official communication with their clients. This could include sending them bills after the service has been provided. This could also be used to give updates to the clients regarding their automobile repair and what else might be needed in terms of maintenance and service of their vehicle.
In addition to this, the automobile workshop may also use letterhead to communicate with business partners who provide their service in collaboration with the workshop. Usually, a logo that represents their business, will be given the most space on their letterhead so it's instantly recognizable.
In addition, usually dark colors are used for logos and letterheads, so it catches the eye of the reader but does not distract from the main information that is presented in the document. Other information, such as their social media handles may also be given on their letterhead in addition to office address and telephone number.
Uses of Letterheads:
The benefits of using letterheads are many for any business or organization.
Keeps all the communication official and is good for maintaining records
Useful for keeping inventories for all the items that are in official use.
Keeping track of information and data is made easy with the letterheads.
The clients easily recognize the information on the letterhead as official communication from the workshop.
The use of graphics addresses and contact information on the letterhead plays a role in marketing the business and reinforces brand value to the client.
#1

Dimension: 8.5″ x 11″
Size: 5MB
Download
---
#2

Dimension: 8.5″ x 11″
Size: 2MB
Download
---
#3

Dimension: 8.5″ x 11″
Size: 4MB
Download
---
#4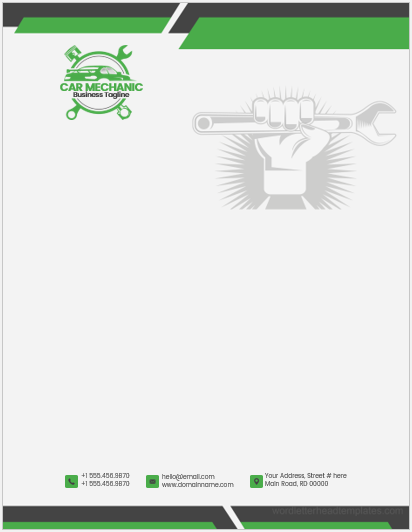 Dimension: 8.5″ x 11″
Size: 2MB
Download
---
#5

Dimension: 8.5″ x 11″
Size: 2MB
Download
---