Finance company letterheads are the papers used as office stationery to compose official documents or to carry out official correspondences. These types of companies often need to communicate with the relevant stakeholders, for which they utilize their letterheads. By using letterhead for a document, the recipient can be notified, informed, and positively impacted.
A finance company is a specialized type of financial institution, and is not the same as a bank, as it only offers the services of granting loans. It generates its income from the interest charged on the given loans. These loans may be granted to consumers or given as a credit to the sellers. It may seem that such a company may only have to communicate with its clients/customers or the merchants. However, there are other stakeholders and parties as well, with whom communications are a common practice. A few examples are:
Government authorities to seek approvals and permissions.
Competitors to make business-related arrangements.
Other relevant organizations to get facilitation or business.
Suppliers to provide any sort of stationery, equipment, or related stuff, etc.
A well-designed, professional, and clear, having up-to-date information, letterhead can prove to be beneficial in various ways:
As letterhead belongs to a finance company, the association of the documents with the company is clear.
When a document is sent on letterhead, with signature and stamp, the recipient would be assured of its authenticity and validity. It helps in minimizing the acceptance of fake and counterfeited documents as well.
A document on the letterhead has an automatic qualification to be accepted as legal evidence or reference.
The letterhead brings uniformity in the records, which makes it easier to look through and search for the required documents. In addition, it makes auditing smooth as well.
If letterhead is attractive enough, a business can be generated for the finance company by using them for communicating with the potential stakeholders.
However, to avail these benefits to the maximum extent, the letterheads should be designed carefully. Their distinctiveness from other finance companies should not be compromised so that the clients will not hold any misunderstanding while dealing with different finance companies. The correct and updated contact information should also be maintained. Even if there is a slight change, the new letterheads should be immediately prepared.
The details included on the face of the letterhead as well as their positioning can vary as per the priorities of and approved design by the finance company. Generally, the template of such letterheads has the following information included on them:
Text box to write or insert the date of the document.
The official name of the finance company.
Contacting details of the company.
Brand logo and tagline.
A text box for the content of the document.
Designated space for the signature and official stamp.
Header and/or footer, or footnote, if any.
Supportive pictures or images to indicate the type of business of the company.
Free Word Letterhead Templates for Finance Company
#1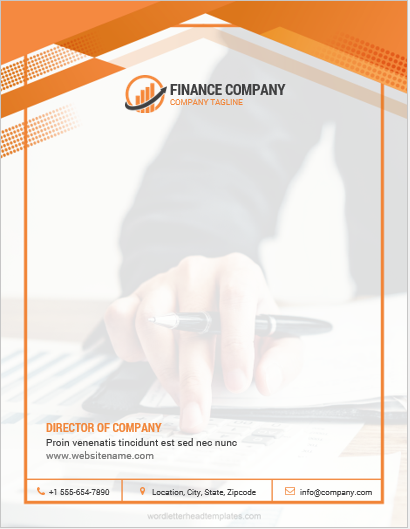 Dimension: 8.5″ x 11″
Size: 5MB
Download
---
#2

Dimension: 8.5″ x 11″
Size: 4MB
Download
---
#3

Dimension: 8.5″ x 11″
Size: 4MB
Download
---
#4

Dimension: 8.5″ x 11″
Size: 5MB
Download
---
#5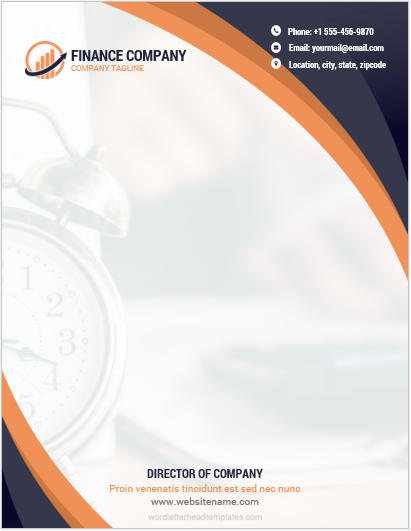 Dimension: 8.5″ x 11″
Size: 5MB
Download
---