Interior design company letterheads are the official notepads, that are used by the company for its official correspondences. The usage of letterhead is considered a professional way to communicate, and a well-designed template would make an impression on the receiving party as well.
A letterhead is the company's information stated as a heading on top of the page, but generally, when a letterhead is being referred to, it is the page on which that information is present. Letterheads are an essential part of office stationery, and their constant supply is always ensured by the relevant department.
Interior design companies offer services of designing the interiors of homes, offices, apartments, buildings, etc. To carry out the day-to-day functions of their business, they need to communicate with the following on a regular basis:
Employees
Clients or customers.
Suppliers of materials, decorations, furniture, etc.
Investors
Financial institutions.
Relevant government authorities.
Competitors or designing companies.
Other organizations.
The internal and external communications and documents are released on the company letterhead because:
The document's validity gets confirmed.
It provides the basic information of the company to the receiver and helps in making an impression on him.
The user can use it to sell its business ideas.
The recipient can link the document with the sender.
The document is kept in the records so that it can be used as a reference if a need arises. Often, such documents set the basis for the only possible resolution of big problems.
Hence, using a letterhead brings along many benefits, that is why it is important to design them carefully and with the consideration of various aspects, a few of which are listed below:
Legibility and clarity should be the top priority.
The design should give a professional look.
Attractive font and pictures need to be used, but they should match with the image of the company. The positioning of images and the company's information should be decided critically as well to make it eye-pleasing.
A company's letterhead should be different and distinctive from the letterheads of other companies.
The space spared for the document's content should be enough and should not be overwhelmed with background or decorative pictures.
As far as the company's information to be shared on the letterhead is concerned, the decision lies with the management and designers. Therefore, it is not necessary that the letterheads of different companies would have the same type of information. However, generally, the details present on the letterheads of interior design companies include:
Specified space for the date.
Brand name of the interior design company.
Contact information of the company.
Brand logo and catchline, if any.
Box for the main content or text of the document.
Header and footer, if any.
Specified space for the signature and official stamp.
Any interior designing-related pictures, to make the letterhead look attractive.
Sample Templates
#1

Dimension: 8.5″ x 11″
Size: 3MB
Download
---
#2

Dimension: 8.5″ x 11″
Size: 4MB
Download
---
#3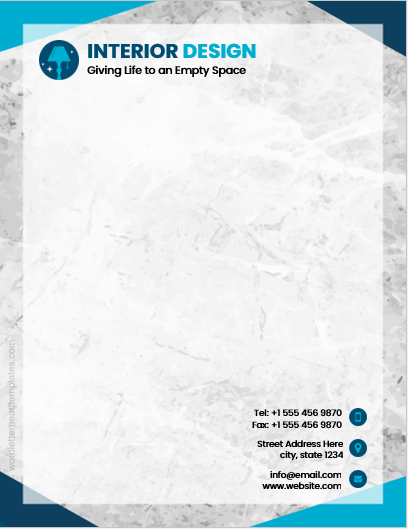 Dimension: 8.5″ x 11″
Size: 3MB
Download
---
#4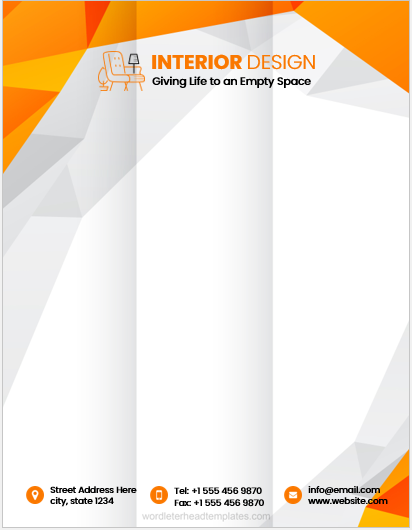 Dimension: 8.5″ x 11″
Size: 3MB
Download
---
#5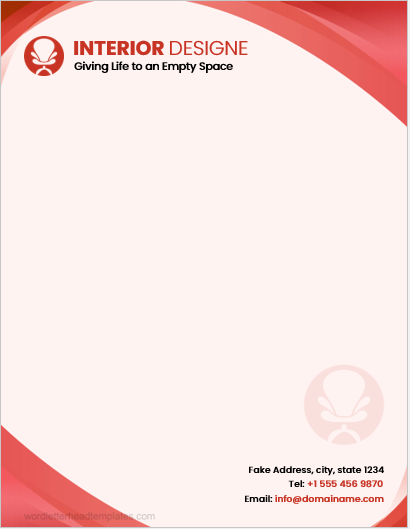 Dimension: 8.5″ x 11″
Size: 2MB
Download
---