Pastor letterheads are the official papers of the church, that are used by the pastor to draft and make documents related to the church management and services. These letterheads include the main content of the document and are duly signed and stamped by the pastor to indicate its official validity. The followers often revere the documents given to them by the pastor.
A pastor is a religious leader, who represents a church and conducts the relevant services. He preaches the people, guides, and answers the queries of the followers. In addition, sometimes, being the official authority, he is also responsible for leading the church management team as well, which indicates that he needs to communicate with different categories of people and organizations, for which he would usually use the letterhead. Few of such people and institutions are:
The church workers: This includes both voluntary (usually non-paid) and hired (usually paid) workers. For instance, they may need to be given orders or letters on the letterhead.
The followers: The people who come and attend church services may need to be communicated and preached in written form by using the letterheads. If a pastor has to perform the wedding services for a certain person, the details of the arrangements would also be written on a letterhead.
Donors: The pastor may need to seek funds for the church.
Other churches: Communication may be required with the main churches of the state or other churches in the vicinity.
Government: Sometimes, a church may need to inform, seek approvals, or help from the government, and being a representative of the church, the pastor would use the letterhead to carry out such correspondences.
It may seem that the pastor's job is limited to bringing the people closer to the religion. But it is wider in scope. A church can be considered as an office, and a pastor its manager. Therefore, like other managers, the pastor needs to communicate with different stakeholders, as mentioned above. To make such communications official, the pastor uses letterheads.
The letterheads are designed to make them look professional and formal. Their link with the specific community church should be vivid as well. In addition, they need to clearly state the updated and required information about the church and pastor. Generally, the following details are included on such letterheads:
An allocated place for the date.
Name of the community church.
Logo and slogan of the church.
Official contact information of the church and/or pastor.
An allocated place for the pastor's signature and stamp of the church.
The layout of the letterhead, including its design, pictures, header, footer, etc.
Usually, the name of the pastor is not printed on the letterhead and is written by the pastor while drafting a document. It is because a pastor of the church may change, and to save the costs, the need to reprint a new letterhead with the updated information, every time a pastor gets changed, should be minimized.
Sample Pastor Letterhead Templates
#1

Dimension: 8.5″ x 11″
Size: 2MB
Download
---
#2

Dimension: 8.5″ x 11″
Size: 5MB
Download
---
#3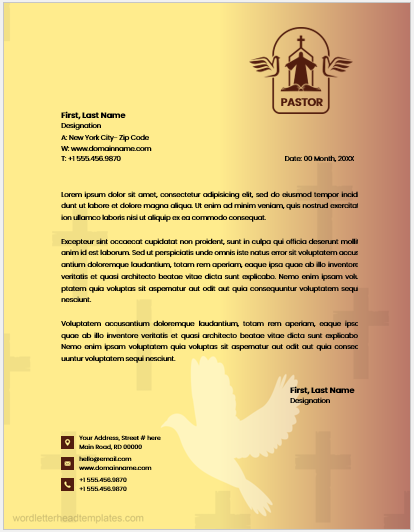 Dimension: 8.5″ x 11″
Size: 3MB
Download
---
#4

Dimension: 8.5″ x 11″
Size: 3MB
Download
---
#5

Dimension: 8.5″ x 11″
Size: 6MB
Download
---