A tailor is described as a professional individual, skilled in the arts of designing and sewing clothes. Tailors are equipped with the skills to transform yards of fabric into beautiful attires by using needles, machines, and thread. They are skilled to use different gadgets such as scissors, inch tape, sewing machines, and other related equipment for making amazing clothes.
In addition to sewing, tailors are also known for designing clothes which is very important for the overall look. Mostly tailors work individually in their respective shops or at home, but a group of tailors may also form to provide combined services.
Letterhead is a pre-printed document that provides minimal information about its organization or business. The provided information is either found in the header or footer or both and is very basic. Letterheads are empty pages except for the header or footer area so that the empty space can be used for various purposes. Letterheads find their application in almost all domains, therefore; they are considered significant.
Tailor letterhead is a document that provides information about the tailor and its venue. Such information helps an unknown person for locating the tailor. A tailor may also use letterhead for the following purposes,
For keeping measurements of every customer.
Organizing all the documents of the shop in an orderly manner.
Keeping receipts of paid bills by customers.
Maintain data about pending and completed work.
Managing utility bills, rent, and other documents
Using letterhead for billing customers.
Make an inventory of every item at the shop.
Contents
Contents of letterhead are basic and provide introductory information about the tailor. These contents may vary from organization to organization but mostly include the below-mentioned points,
Name of the tailor
Logo of shop
Types of garments that the tailor deals with
Conditions for stitching garments
Complete address of the shop
Contact information
Information on letterhead mostly includes the above-mentioned points but it depends on the nature and choice of business.
Significance
Tailor letterhead can prove to be significant in the practical field because it is multi-functional and can be used for various purposes. Its significance can be highlighted from following points,
For billing customers for stitching garments.
For keeping documentation of buying machinery and threads.
Keeping receipts of all the purchases.
Keeping a track of all customers and their belongings.
Documenting every legal matter related to the shop.
Organizing inventory of every item.
Keeping all the documentation of the shop organized.
Use of letterhead show professionalism and seriousness about the work.
Design
The design of every letterhead differs based on the nature of the business and the choice of the owner for including or excluding information and other graphics. Even then, designs of letterheads are simple and elegant that exude professionalism. These designs might include graphics, in addition to text, to further enhance its elegance. Some of the points that should be considered while designing letterhead are mentioned below,
Add decent graphics that show relation to the wood such as the use of sewing machines, pop of threads, etc.
Do not provide too much text to avoid crowding.
Use a solid background for the document.
Do not use bright colors.
Use readable font style and size.
Perform a spell check before finalizing.
Sample Tailor Letterhead Templates
#1

Dimension: 8.5″ x 11″
Size: 5MB
Download
---
#2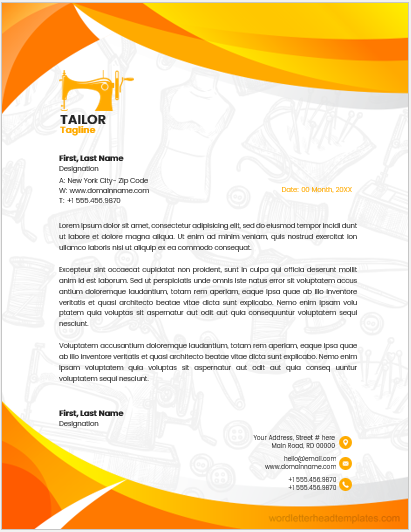 Dimension: 8.5″ x 11″
Size: 4MB
Download
---
#3

Dimension: 8.5″ x 11″
Size: 4MB
Download
---
#4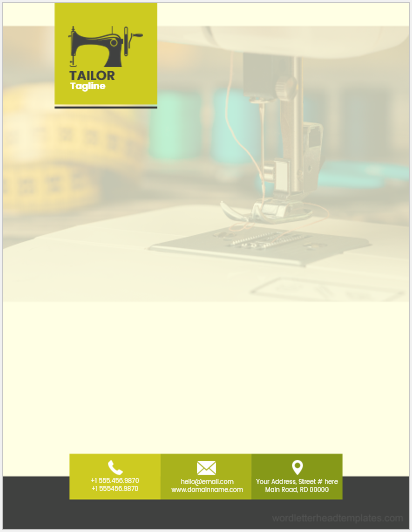 Dimension: 8.5″ x 11″
Size: 4MB
Download
---
#5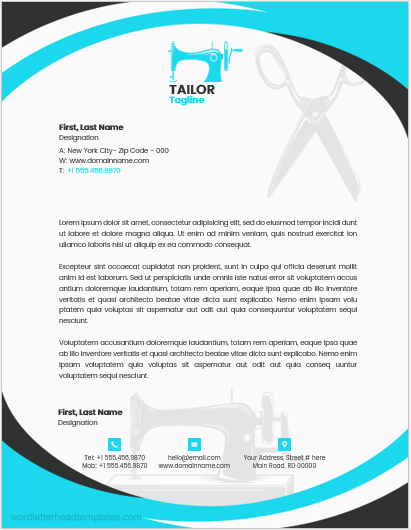 Dimension: 8.5″ x 11″
Size: 3MB
Download
---