Teachers are an important part of any institution. Without them, we cannot get a good education. A teacher needs to show his/her professionalism in all the work that they do. They must give a good impression of themselves to students and their parents as well. This can help a school to keep on running and get more students. A teacher letterhead is something that a teacher should have.
What is a teacher letterhead?
A teacher letterhead is a heading present on the topmost sheet of an official document that a teacher sends out. This allows the teacher to differentiate himself/herself from the other teachers. It gives them a professional and decent look.
Importance of a teacher letterhead:
A teacher's letterhead is an important document as it can be used by a teacher to show that he/she is capable. When the teacher sends this letterhead on a document to parents, the headmaster, another school, etc., they will know from which teacher it is. It gives the teacher identity and lets people know what school he/she is from, what they teach, which class they teach, etc.
The letterhead can be used as a digital marketing tool to help let people know about a certain school. It allows a document to get a sense of credibility. The receiver can be confident of the information that is enclosed within. The letterhead can be used by the teacher amongst staff and faculty. It can be employed externally with students, parents, as well as members of the surrounding community.
Tips to create a teacher letterhead:
If you are assigned the task of making a teacher letterhead, you should not take this lightly. It will help give an impression of yourself to others. The following tips can be kept in mind if you need to make a teacher letterhead:
Get an image of the design that you want: You should think about a design that is simple and clean. It should look professional and be creative as well. The letterhead should connect to the branding of the school that you are teaching in. People should not be confused about this. You can have fun with a teacher and school letterhead but be sure that the design should not distract from any vital details that you wish to communicate to parents as well as students.
Design it carefully: The colors, fonts, as well as graphics, must represent the school's branding. They should match any other marketing materials, such as its website, business cards, etc. It is better to limit yourself to only two fonts. These must be in legible sizes. The most vital details should be more prominent in comparison to secondary details.
Things to include on the letterhead: A letterhead should have the school's name. This must be seen by anyone who reads the document. You can include a motto or maybe a slogan as well. There should be a school logo that is easy to recognize. If the school has any colors and fonts that can allow people to recognize it, these should be used. It is important to include the contact details of the school. This will be the mailing address, URL, phone number, as well as email address. It should be easy for people to contact the teacher or school if they need to.
Print out: You should save the letterhead so that you can print it whenever you need to. It may be a good idea to print some out and have them in hand with you. You can use it whenever needed. You should print it out on good-quality paper. Remember that this letterhead will be used to give an impression of a teacher. This is why you should make it carefully so that a good impression is given.
A teacher's letterhead is important and needs to be designed carefully. You should make it so that it looks professional and is also aesthetically pleasing. Make sure that the important points are prominent and can be easily recognized. The letterhead can be used to welcome students, communicate with parents, send interdepartmental memos, communicate with other faculty members, used to provide assignments plus project details to students, etc.
5 best templates
#1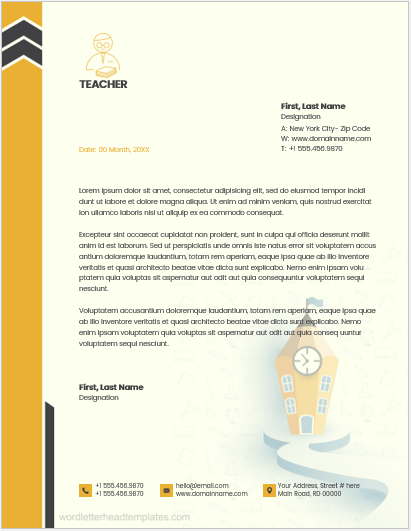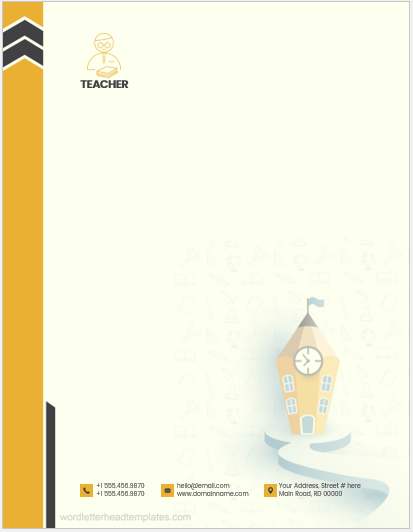 Dimension: 8.5″ x 11″
Size: 3MB
Download
---
#2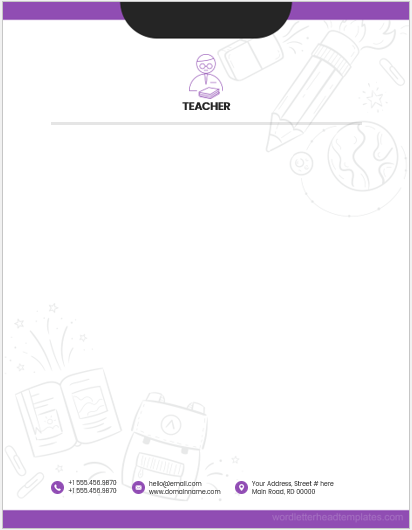 Dimension: 8.5″ x 11″
Size: 3MB
Download
---
#3

Dimension: 8.5″ x 11″
Size: 3MB
Download
---
#4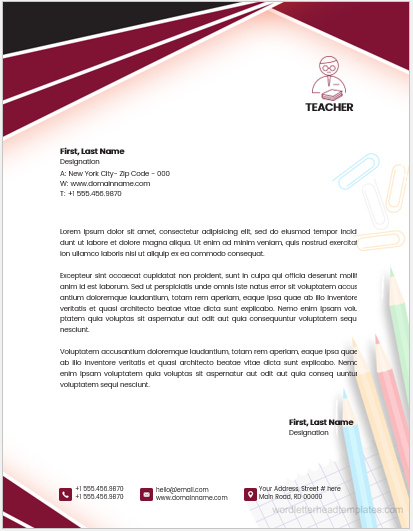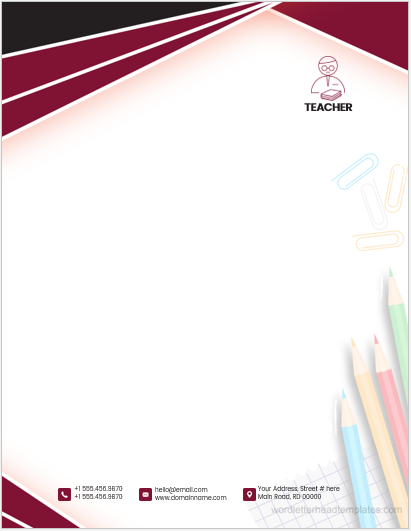 Dimension: 8.5″ x 11″
Size: 3MB
Download
---
#5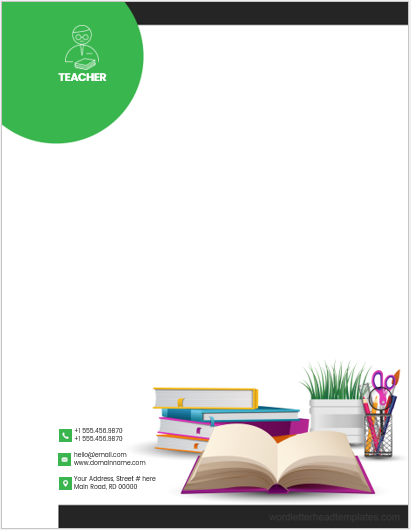 Dimension: 8.5″ x 11″
Size: 3MB
Download
---