A travel business or travel agency serves the purpose of an intermediary between a supplier of travel services, such as the airlines, hotels, etc., and their indirect customers. The travel business arranges travel and tourism services for interested people by matching their requirements with the providers' services. These types of business activities involve a lot of formal communication, for which letterheads are often used.
A letterhead…
A letterhead is a heading, containing the basic business information of name and contact, on a top of a paper that is utilized for the professional correspondences. The presence of this stamp on a paper makes the paper an authentic document, as it is considered a direct communication from a company. Habitually, the paper sheet itself is referred to as a letterhead, instead of the heading only.
In the travel business, there are numerous uses of a letterhead, such as:
For creating an association of a document with its business.
For providing the information of name, address, contact, etc.
For reflecting the business's image through the design, colors, and format of the letterhead.
For writing proposals to the service providers to form alliances.
For communicating with the customers.
For communicating with governmental organizations, financial institutions, or other stakeholders.
For writing letters, applications, etc.
For making itineraries.
Professional designing…
Due to their importance, the letterheads are often designed by the professionals by considering the following things:
The elements of uniqueness need to be incorporated so that a document can easily be linked to the sender company.
The letterhead needs to be formal and professional, even if it deals only with tourism and fun holiday trips.
The amalgamation of letterhead design with the company's image is very important.
The font style and text size need to be legible.
The background colors, text, or images should not hide the main content.
Adequate space for the main content should be provided.
The quality of the printing and the paper sheet should be good.
Key information…
Travel businesses can deal with broad services or may restrict their services to only a few categories and countries. Depending on that as well as their requirements regarding the letterhead, the businesses decide about what needs to be included on a letterhead. Generally, the following information is included in almost all the letterheads:
Name of the travel business or travel agency.
Address, fax, email, and contact number.
The slogan of the travel business.
Logo of the company or any related image, if needed.
Background picture, color, or text, if required.
When a document is prepared on letterhead and is duly signed and stamped by an authorized person, it becomes an acceptable document to the receiver in terms of its validity and authenticity.
In addition, it can even be used for legal purposes as well. Therefore, often, all the professional and formal correspondence in a travel business is conducted through the letterheads.
Templates
#1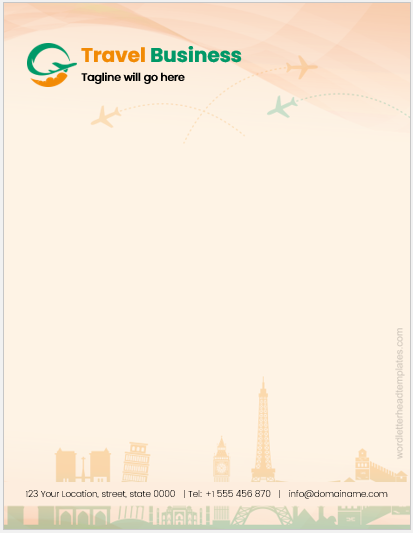 Size: Letterhead 8.5″ X 11″
File: [Personal Use Only]
Size: 650.0 KB
---
#2
Size: Letterhead 8.5″ X 11″
File: [Personal Use Only]
Size: 187.0 KB
---
#3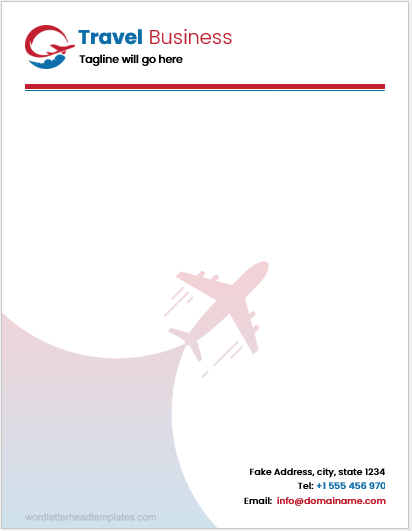 Size: Letterhead 8.5″ X 11″
File: [Personal Use Only]
Size: 151.0 KB
---
#4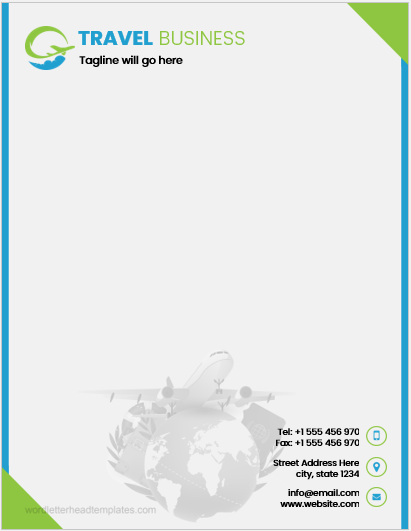 Size: Letterhead 8.5″ X 11″
File: [Personal Use Only]
Size: 418.0 KB
---
#5
Size: Letterhead 8.5″ X 11″
File: [Personal Use Only]
Size: 721.0 KB
---